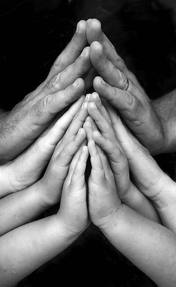 I used to pray that God would feed the hungry, or do this or that, but now I pray that [God] will guide me to do whatever I'm supposed to do, what I can do. I used to pray for answers, but now I'm praying for strength. I used to believe that pray changes things, but now I know that prayer changes us and we change things.
– Mother Teresa
Believing all fall within the circle of your love and care, O God, we pray.
First, for those who find themselves in need.
Those who are lost.
Those who are separated from their children.
Those without a home or a place to call home.
Those who are hungry.
Those who are victims.
And, we pray for those who have enough.
And more than enough.
Ourselves included.
May our affluence not lead to arrogance.
Instead, may gratitude deepen our compassion.
And, may we live with an awareness of our need for each other.
And, may we find our way forward towards that promised day when all will have enough and all will have a place.
And, as we pray may our lives be changed.
So that we begin to pray not just with our words.
But also with our lives.
Amen.