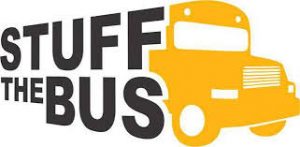 Family dinners.
Those ordinary, everyday ones which, those who know, tell us are so important.
Spaghetti and warm bread.
Soup and sandwich.
Chicken and baked potatoes.
And then there are those special meals together.
Thanksgiving.
Christmas.
Birthdays.
Anniversary.
It is the special ones
The celebratory dinners
Which I have been thinking about for the last couple of weeks.
Yesterday, the local food pantry hosted their annual Stuff the Bus event.
They park a school bus in front of the local grocery store and encourage/challenge the community to stuff the bus with food which will then be distributed over the next several weeks to individuals and families facing food insecurity. In this season of celebration and giving it is a wonderful challenge and opportunity
. In addition to the Stuff the Bus event, a couple weeks ago food pantries in communities across our country prepared special meals and distributed turkeys and the needed trimmings for Thanksgiving dinner to more neighbors than I would like to imagine or count. Along with the meals and the food, I am sure there were conversations and laughter and tears as we looked one another in the eye and, maybe, for a split second, saw each other for who we are. My thanks and respect to all who had some part in making all that happen.
It matters.
And, it makes a difference.
But, as is so often the case for me, all of this made me stop and think.
What would it like…
What must it be like…
To only have enough food to have only one special dinner each year.
What happens on those other days.
The ones that mean as much, if not more to me, than Thanksgiving.
What about the birthdays which are coming up?
Or, the graduations which are around the corner?
And, the anniversary which remind us that our love has sustained us through another year?
What about those days?
And, being one who not just asks the questions, but also imagines the What if's...
What if we ask the people who turn to our food pantries for help what other day during the year they would like to have a special meal?
What if we asked them what they would like to have and to help them plan the menu?
What if the food pantry leaders and volunteers asked me if I would financially support a special meal (or two?) for one of those families?
What if I was asked to help in some way? Bake bread? Bake a cake? Make a casserole?
What if…?
It is not just about food, is it?
Food insecurity takes its toll on relationships, on learning, on family stability, on health and so much more.
What if those of us who have what we need and often more than what we need stepped up to do just a bit more?
Its about more than a meal.
It is about who we are.
And, who they are.
And, about they type of community in which we would like to live.
Today, is the Second Sunday in Advent.