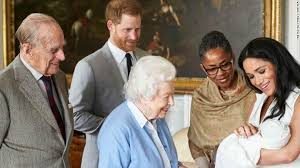 Archie Harrison Mountbatten-Windsor was born this week.
In the midst of the expectation and excitement surrounding his birth, Archie's arrival also prompted a cartoon depicting the royal baby as a chimp which got the cartoonist fired. He said what he drew was meant as a joke. It also prompted a conversation I listened to on NPR about how mixed race children and mixed race families navigate the history and culture, prejudices and privileges of multiple races. Three mixed race adults – if I remember correctly an author, a journalist and a professor – shared their experiences of how the color of their skin and the accompanying expectations and stereotypes impacted their growing up. I forced myself to pay more attention than I usually do when I am driving and listening to the radio.
Their reflections challenged me.
When was the last time, I wondered, that I thought about the color of my skin and had to navigate the cultural expectations and stereotypes because of it.
Almost never.
Not last week.
Not last month.
Not last year.
The last time I remember grappling with the impact of the color of my skin as more than an intellectual exercise was the summer between my Sophomore and Junior year in college when I spent the summer working at a day camp in the inner city of Pittsburgh, PA. That summer I was one of a handful of white counselors working in a program for black children in a predominately black community. I was reminded each day, sometimes forcefully, that I was different and didn't fit in.
The color of my skin.
I do not even think about it.
How about you?
But they did and do.
And he will, too.
Every day.