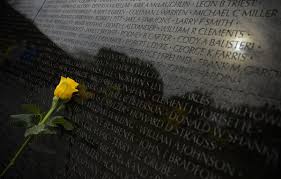 I came of age during the Vietnam War.
Kent State and Jackson State.
Daily death totals at the end of the evening news.
The draft lottery.
I watched as my parents went from supporting the war because the President encouraged them to to agreeing with the position of their children who were against the war.
In many ways, those days shaped my life.
When our sons were in elementary school we took a family vacation to Washington DC.
We walked the Mall.
The Smithsonian Museums.
The Lincoln Memorial.
The Washington Monument.
While everything we saw was impressive, I was most moved by the Vietnam Memorial.
I walked along that black marble wall alone.
And cried.
There were the names.
Nearly 58,000.
Mostly young men.
Mostly my age when they were killed.
I didn't recognize more than a handful of names.
But each name was important.
This past Sunday the New York Times printed the names of 1000 of the nearly 100,000 people who have died of Covid-19.
Maybe too easily…
And, for some of us, way too easily…
We overlook the scope and severity of what is happening.
It is not our grandparents.
It is not our neighbor.
Even when there are deaths in our community, we did not know them.
We are not the doctors.
Or the nurses.
Or the hospital housekeepers.
And so we say…
Why should I stay at home?
Why should I wear a mask?
Why should I keep my distance?
Then there are the names.
1000 of them.
1000 of the 100,000 in our country.
1000 of the more than 350,000 worldwide who have died.
Seeing their names is important.
We needed the reminder.
And, today there is George Floyd and the hashtag #sayhisname.
George Floyd is the African-American man who died when a police officer knelt on his neck while he was handcuffed. One more name to add to that list of names which include Eric Gardner and Trayvon Martin and Sandra Bland. We need to remember.
#saytheirnames
In Hebrew Scriptures, in the second chapter of Genesis, you find the story of Adam and Eve and the Garden of Eden. A part of the story goes like this:
God had created Adam.
But Adam was alone and God was worried.
So God, kneels down, takes clay from the soil and molds the clay into ???
God then shows what God had made to Adam.
Adam names it.
And, with a name what God had made becomes a living creature.
Truth.
Names matter.
Names remind us of who we are and who they are.
Names help to create our humanity.
Names help to make us neighbors.
And, we know what God says about how we are to treat our neighbors.