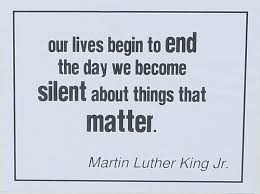 My social media feed has been filled with prayers.
Prayers for those murdered by a right wing, white supremacist in Christchurch, New Zealand.
Prayers for those wounded in that attack.
Prayers for the families of the victims.
Prayers for the members of the two mosques.
Prayers for the people of New Zealand.
Prayers for our Muslim sisters and brothers.
I know many of those who are posting their prayers.
And sharing their heartache and heartbreak at another senseless slaughter.
But they…
We…
Are the small voices.
Yes, our voices matter.
And, yes they make a real difference in the communities of which we are a part.
And, yes, when added together they can begin to turn the tide.
I live holding onto that hope.
But what was missing yesterday
And is missing again today
Are the big voices.
The ones whose sound bites dominate the news.
They are the ones who need to say more.
To say something which goes beyond "thoughts and prayers."
They are the ones who need to stand up.
And to speak up.
And to stand up again.
And to speak out again.
And then to stand up yet again.
And to say out loud that this is wrong.
That the motivation behind these murders is WRONG.
That white supremacy is WRONG.
That Muslims are NOT the problem.
That immigrants are NOT the problem.
That brown people or black people or Asian people are NOT the problem.
That people who speak a different language or practice different customs or who pray a different way are NOT THE PROBLEM.
The faithful, little voices around me are speaking up.
And speaking the truth.