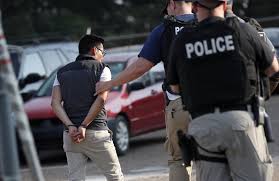 Last week ICE agents raided a chicken processing plant in Morton, Mississippi arresting 680 people for being in the country illegally. What took place is troubling in many regards and left me thinking about several questions.
Were laws broken?
The answer is YES.
Personally, I disagree with the laws and the inaction of Congress to address our broken immigration system, but workers in the plant were there and in our country without legal documentation. Some may have been there and here six days. Some six months. Some six years. Some twenty six years. But they were there. They were there because that is where the work was. Work which would provide for their families. Work, which in many cases, was work others did not want to do or which the company was unwilling to pay enough to attract other workers.

But other laws were broken as well. I have not hired that many people, but I have hired some. For each of our new employees I was required to review documentation – passport, drivers license, social security or tax ID card – to make sure all was in order and the person was in our country legally. And, I had to sign those forms stating I had reviewed the documents and complied with the law. If I falsified the form or lied in someway, I was informed I was breaking the law and would be punished. So, in this case, yes a number of those arrested broke the law, and the management, HR department and owners of the company also had broken the law.

Were the laws applied equitably and fairly?
Here the answer is NO.
680 workers were arrested. Some who had proper documentation. Others who did not. But all were arrested. None of the management, HR staff or owners have been arrested. News reports say that an investigation is ongoing, but management was not walked out the building in handcuffs and the owners were not taken to the police station or detention center to be questioned. It is hard to believe the official statements about the raid and the arrests when not everyone who broke laws were arrested or held accountable. It appears to be more about targeting one group of people and overlooking another.
Was it/is it right?
Here the answer is once again NO.
I recognize this question is more about right and wrong than legal/illegal. Were the ICE agents acting within the confines of the law? Yes, but it was wrong to conduct a raid – this raid or any raid – and leave children abandoned with schools and churches and social service agencies scrambling, after the fact, to make sure children are safe and cared for. It was wrong to sweep up any and all who look like they might be guilty, when some of those arrested had the proper documentation and were in our country and working legally. And, it was wrong to try to pass the buck by saying the parents are really the ones to blame. 
I am not a law enforcement officer or in the military, but I am aware of the complicated line of following orders and disobeying orders when you know them to be wrong. This raid was wrong. Wrong to be conducted on the first day of school. Wrong to leave children abandoned. Wrong to point the finger and to blame others, particularly the ones with the least ability to defend themselves.
This raid made the news because it was so large and so disturbing.
I am sure there are smaller raids someplace each and every day.
I am sure parents are taken away never to see their children again.
I am sure, each day, children are left alone frightened beyond words.
I am sure, with each raid, communities are torn apart by what happens.
All this happens in my name.
Our name.
It is my fault.
It is our fault.
All this happens in my name.
I am ashamed.