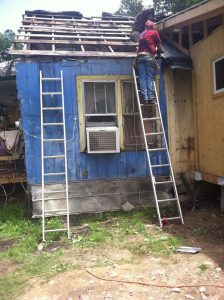 Every summer, except two, since 1979 I have traveled with a group of high school students and adult leaders to somewhere in Appalachia to repair homes. Kentucky. Virginia. West Virginia. Saturday I go again.
We will repair floors or roofs or build porches.
We will do whatever we are asked to do.
And also do our best to be good guests in the communities in which we work.
Over the years I have met people who have become cherished friends and role models for me. I am a better person for knowing them and having them as a part of my life.
But this year feels different.
Harder.
I disagree on many levels with the direction in which our country is headed and with the leadership of the President. His rhetoric and policies run counter to the values which I have spent my life promoting and doing my best to live. Yet, next week I will be in a part of the country and in a community which overwhelming voted for him. While I am there I will do my best to make the home of a family safer and more secure. I will sit on their front porch or in their front yard and do my best to get to know them. I will do my best to challenge the high school students who are with me to reflect on what they are learning and hope the experience touches them in some way which leaves them a bit unsettled by the harsh reality of poverty in a country which is so affluent and powerful.
Like I have done for so many years, Saturday I leave, again, to spend the week repairing homes for families in Appalachia. But, this year it will be different. Harder. My prayer is that my eyes and heart remain open so I can see them for who they are. And they can see me for who I am and…….