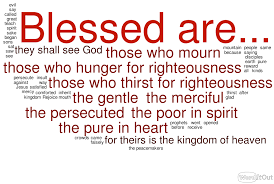 In church this morning, one of the readings from the Bible was from Matthew 5.
The Beatitudes.
Blessed are.
Blessed are those who mourn.
Blessed are those who are meek.
Blessed are those who are merciful.
Blessed are those who work for peace.
Through her reflection, the pastor/preacher reminded me of how often we misuse and misunderstand blessing.
Think about it.
How do you most often use that word?
I am healthy. I am blessed.
I have a warm, safe place to live. I am blessed.
My children/family/partner are all well. I am blessed.
I have food on the table. I am blessed.
I have money in the bank. I am blessed.
Count your blessing and we list all the above.
But what if we don't have any of those things?
What if we mourn because our children will go to bed hungry?
What if we hunger and thirst for life and world to be different, but it still feels the same today as it did yesterday and probably will tomorrow?
What if we struggle to get by and/or to hold our family or community or country or world together?
What if we go against the tide and wage peace from the bottom up instead of war from the top down.
Count your blessings.
What blessings?
For many years I led service learning trips to Nicaragua.
Most years we built homes for families who, when we arrived, were living in houses made of scraps of wood and metal with a dirt/mud floor and a leaking roof. One year we built a home for a grandmother and her two grandchildren and a second home for a young couple who were expecting their first child who were living in a partially broken down building and sleeping in a hammock. At the end of the week, with the houses completed – strong walls, tile floor, metal roof – and our good-byes said and our luggage loaded on the bus that would take us back to the hotel where we would stay for the night before heading home, I asked everyone in our group to turn and face the bus. I asked them to imagine the homes and families to which they would be returning. I asked them to think about what they were most looking forward to when they got home. A hot shower. Something more to eat other than rice and beans. Being able to wash the dust off their feet. After a moment or two of quiet reflection. I asked them to turn around and to open their eyes. To see the community in which we had lived. To see the homes we had helped to build. And, to see the need which was still there. But also to see the strength and the hope. I asked them to remember that 80% of the world lives in conditions like what they saw.
I thought about that moment this morning in worship.
The people who listened to Jesus on that hillside depicted in the story Matthew told were among that 80%.
Anything but blessed.
Common.
Poor.
Powerless.
Sometimes, maybe often, hungry.
Overlooked.
Taken advantage of.
Living in a broken down building.
Sleeping in a hammock.
Raising grandchildren.
Dirt for a floor.
Always looked down upon by those who had everything they did not and who assumed they were among those whom God had blessed.
But Jesus turns all that either upside down or right side up.
I don't understand it, but I believe it to be true.
And, I have experienced it.
Blessing.
Real blessing.
The kind which turns your world right side up.
Is hidden and to be found in those places we are least likely to look.
Among those who we tend to forget.
Among those who mourn because of the brokenness of life and world.
Among those who see beyond the limits of today to the promise of God's dream for tomorrow.
Blessing was right there.
Upon them.
Within them.
Among them.
On that hillside.
Just as they were.
That's what Jesus told them.
Told us.
Can you believe it?