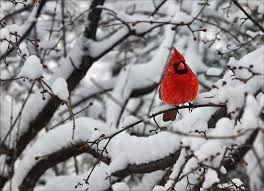 It has been a week of storms.
First came the rain and the wind.
Followed by a heavy, wet snow.
Trees down.
Roads closed.
Thousands without power for days.
I took my dog for a walk this morning.
Giving her a chance to chase the smells
And to run through the snow.
As we walked
The morning quiet was interrupted
By cardinals
Calling back and forth to each other across the field.
Listen.