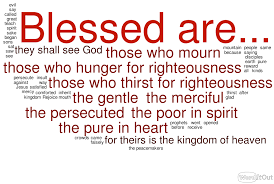 Yesterday I wrote this.
Which pushed me to think more about what it means to be blessed.
I am pretty sure of two things.
First, I am sure I don't fully understand blessing/being blessed so everything which follows should be taken with a grain of salt. Second, we should not confuse blessing/being blessed with gratitude.
I can be grateful I am healthy.
I can be grateful I have a safe place to live and food enough to eat.
I can be grateful the bills are paid.
But none of that is about blessing.
Confusing the two and equating blessings with things leads to arrogance.
I have therefore I am blessed.
You don't therefore you are not.
I am better.
You are less.
Which, unfortunately, is too often how the world works.
Blessing/being blessed is something different.
Something more.
Maybe more like a relationship.
One which sustains and strengthens.
A relationship which grounds you and helps you continue to walk in the right direction.
For me blessing/being blessed has something to do with my life being aligned with the Dream of God which has something to do with…
Seeing the other as neighbor.
Doing what I can to build a world of all having enough and all having a place.
Living and working for justice which then leads to kindness which leads, in turn, to walking humbly with God. 
Here is what I know (at least for today)…
Things are easy.
Gratitude matters.
Blessings/being blessed requires attention and hard work.